DTZ Investors scores highly in the United Nations Principles for Responsible Investment (UN PRI) sustainability assessment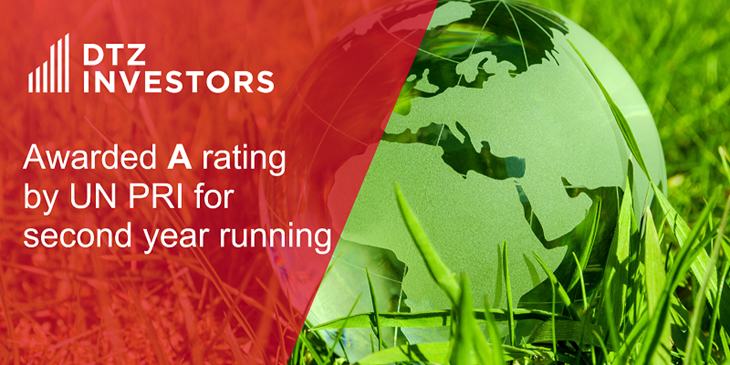 For a second year running we are pleased to announce that DTZ Investors has been awarded an A rating by the United Nations Principles for Responsible Investment (UN PRI) for its commitment and approach to sustainable investment.
The United Nations-supported Principles for Responsible Investment (PRI) initiative founded in 2006, is an international network of investors developing and putting into practice the six principles for responsible investment. 
The PRI were developed by investors to reflect the view that environmental, social and governance (ESG) issues do affect the performance of investment portfolios and therefore must be given appropriate consideration if investors are to fulfil their fiduciary duty.
The PRI goal is to understand the implications of sustainability and encourage the incorporation of ESG into investment decision making processes, into policy and investment practices. As well they promote the public disclosure of ESG issues and the acceptance and implementation of these principles.
In implementing the PRI, signatories contribute to the development of a more sustainable global financial system.
As part of being a signatory DTZ Investors publicly commits to adopting and implementing these principles, being assessed on their effectiveness in implementation each year.
DTZ Investors is assessed on two modules Strategy & Governance and Direct Property, achieving an A rating in both.
 "Achieving a high PRI score for a second year demonstrates our on-going commitment to integrating responsible investment into our working practices. ESG continues to grow in importance and a strong, integrated approach to ESG is key to creating long-term, sustainable value for our clients and our occupiers" Christopher Cooper – DTZ Investors CEO.