A strong year for DTZ Investors who transacted or advised on over £1bn of real estate in 2018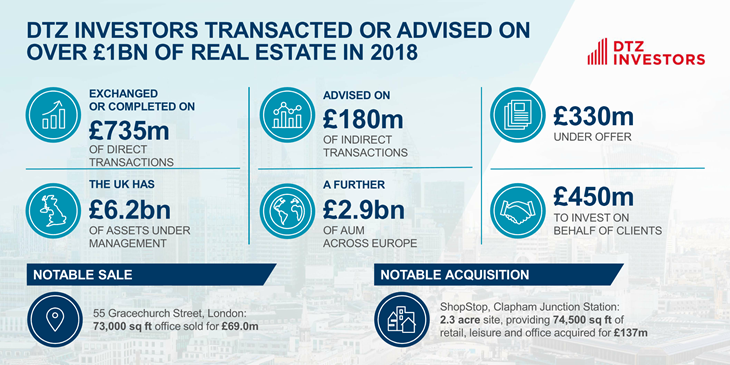 2018 proved to be a busy 12 months for DTZ Investors in terms of market activity. Over the year DTZ Investors has transacted a total of £735m of direct property deals and advised on an additional £180m of trades in the indirect market, ending the year with a further £330m under offer.
The House's largest acquisition was that of ShopStop, Clapham (£137m). The 2.3 acre site, located at the main entrance to Clapham Junction Station, provides 74,500 sq ft of retail, leisure and office accommodation. The investment offers numerous short and long-term asset management opportunities, including potential future development possibilities supported by planned infrastructure improvements. DTZ Investors has also continued to increase its exposure to mixed-use London assets, such as 50-54 Clerkenwell Road (£11.4m), and George Street/Red Lion Street (£11.4m) and Midmoor House (£7.9m) in Richmond. Good quality industrial estates were also targeted, such as Prince Meads Place, Manchester (£11.5m), Deacon Way, Reading (£11.4m) and Tunbridge Wells Trade Park (£6.4m).
Notable sales in 2018 include that of 55 Gracechurch Street (£69.0m), 111 Strand (£46.0m), Drury House and 80 Clerkenwell Road (£18.5m), which capitalised on continued investor appetite for Central London assets, as well as Aerodrome Way Industrial Estate, Heston (£17.5m), which took advantage of the ongoing strength of demand in the industrial market. DTZ Investors also exchanged on the disposal of the House of Fraser in Glasgow for £95.0m to Sports Direct.
2018 also saw DTZ Investors' French REIT, FLF ONE, in partnership with Pitch Promotion, announce its first land acquisitions. The sites, in Béziers and Nantes, will be developed as state-of-the-art logistics warehouses marketed under the Hexa Hub brand. The Fund intends to continue acquiring into 2019 and beyond.
DTZ Investors ended the year with £6.2bn of assets under management in the UK, and a further £2.9bn across Europe. The House has ongoing requirements on behalf of a number of clients actively seeking real estate investment opportunities, with over £450m to invest.
Fund Manager, Tony Brothwell commented "Having just received our various Funds' valuations for 2018 we are confident of achieving a straight eighth year of House outperformance over the MSCI/IPD Benchmark. This should enable us to continue our record of top quintile performance over 3, 5 and 10 years. Achieving such a consistent level of outperformance, whilst investing over three and a half billion pounds over the past 10 years, is testament to our investment philosophy and strong  asset management capabilities".