The Kent Pension Fund property portfolio, managed by DTZ Investors, wins UK and European MSCI long term performance awards for second year in a row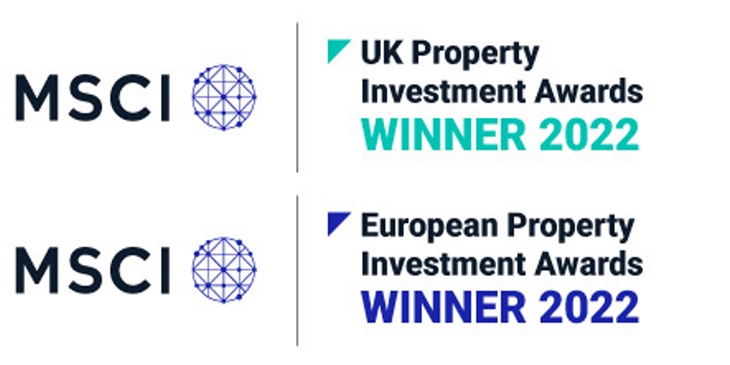 Kent Pension Fund, managed by DTZ Investors, has been awarded two prestigious awards for the best performing fund in UK and the best performing fund in Europe by MSCI for the second year in a row.  The two awards; for the Highest 10–Year Risk Adjusted Relative Return in UK and the Highest Long-Term Risk-Adjusted Relative Return in Europe are in recognition of delivering exceptional performance for the 10 years to December 2022.
Fund Manager Jennifer Linacre stated "We are thrilled to have won these prestigious awards for a second year in a row. DTZ Investors creates long term sustainable value for our clients by putting responsible investment at the heart of everything we do. Working in close partnership with our occupiers and our client, KPF, our strategy has been to invest capital in sustainable locations and to ensure that our properties suit our occupiers' requirements today and adapt as their evolving business requirements change. This has delivered outstanding results." 
"We are extremely pleased with the performance of Kent Pension Fund. Our strategy has focused on adding value in order to drive strong returns through sustainable investment. DTZ Investors prioritise a collaborative, committed and responsible approach to real estate investment management in order to deliver excellent results for our stakeholders"  Peter O'Gorman, Fund Director.
About DTZ Investors:
DTZ Investors is a specialist real estate investment manager. We manage £6.4 billion of UK property assets in separate account mandates. We operate a fully integrated responsible investment programme that has seen us recognised by MSCI for 19 real estate investment and environmental performance awards since 2000. In that time, our House portfolio, comprising all assets managed on a fully discretionary basis, has delivered an ungeared total return of 8.3% per annum over the 10 years to Dec-22. This outperforms the All Property benchmark by 160 basis points (1.6%) per annum, over that ten year period.