DTZ Investors Acquires Bericote and JP Morgan's Coventry Logistics Park for £140.415m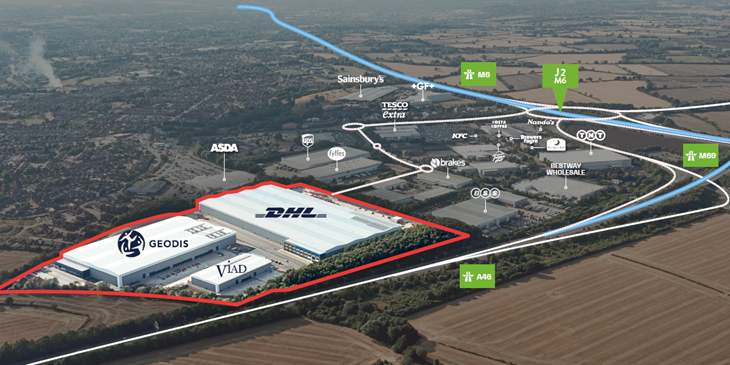 DTZ Investors has completed the acquisition of Coventry Logistics Park, Coventry for £140,415,000, one of the highest quality multi-let logistics schemes in the UK. BNP Paribas Real Estate advised DTZ Investors on the purchase whilst DTRE acted for Bericote and institutional investors advised by J.P. Morgan Global Alternatives.
Coventry Logistics Park comprises three newly constructed logistics units with a total GIA of 784,989 sq ft on a site extending to 43 acres. The Property is fully let to three tenants; DHL, Geodis and Viad, with a WAULT of 11.81 years and was fully pre-let during construction. The asset generates a rent of £6,540,132 per annum and is secured against strong tenant covenants with all three leases comprising attractive rent review mechanisms capturing the higher of open market value or CPI index linked increases.
The property has achieved one of the highest BREEAM 'Outstanding' ratings in the UK and all three units have A EPC ratings. Other key sustainability credentials include photovoltaic panels situated on all three roofs, air source heat pumps used as the primary source of heating for the warehouse areas, a high provision of electric vehicle charging points and both communal and demised cycle storage across the site. The asset recently won Best Overall Scheme in the Logistics Park category at the IAS Awards 2023.  
Coventry Logistics Park is located to the north east of Coventry city centre, a core logistics location within the context of the 'Golden Triangle'. The site is strategically situated 0.7 miles from Junction 2 of the M6 motorway which provides excellent connectivity to the M69, M42 and M1 motorways. The core nature of the location is supported by the strong tenant line up.
Tom Royston, Director at DTZ Investors: "Coventry Logistics Park is a high quality multi-let logistics asset that is well aligned to the fund's investment strategy. The property benefits from an excellent specification and is market leading in terms of its sustainability credentials. The low average passing rent, in conjunction with reversionary potential and the attractive rent review mechanisms, results in the asset forecast to deliver an attractive risk-adjusted return."
James Fairweather, Senior Director at BNP Paribas Real Estate: "BNPPRE are delighted to have advised DTZ Investors on this prime logistics transaction which reinforces the desirability of 'best-in-class', sustainable, logistics property in a market constricted in supply. Coventry is a premier logistics location as demonstrated by the depth in occupational demand and continued rental growth, particularly for the highest quality units which this property offers."
For further information, please contact Tom Royston or Jo Jackson.
About J.P. Morgan Global Alternatives
J.P. Morgan Global Alternatives is the alternative investment arm of J.P. Morgan Asset Management. With more than 60 years as an alternatives investment manager, US$213 billion in assets under management and more than 800 professionals (as of June 30, 2023), J.P. Morgan offers strategies across the alternative investment spectrum including real estate, private equity, private credit, hedge funds, infrastructure, transportation, timber and liquid alternatives. Operating from offices throughout the Americas, Europe and Asia Pacific, our independent alternative investment engines combine specialist knowledge and singular focus with the global reach, vast resources and powerful infrastructure of J.P. Morgan to help meet each client's specific objectives. For more information, visit jpmorgan.com/am.