DTZ Investors has completed on the 121 acre British Car Auctions (BCA) facility for £67.65m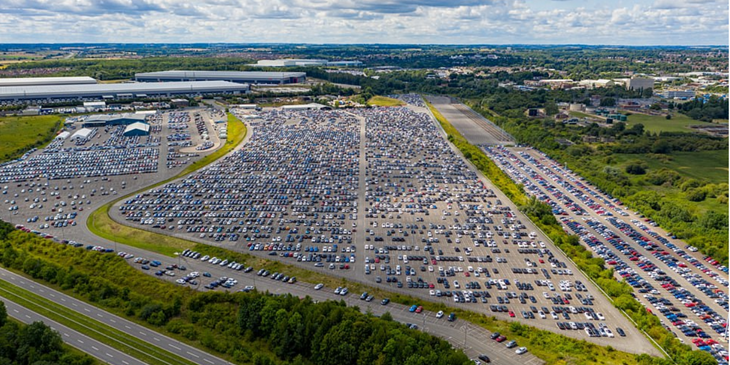 DTZ Investors has completed the acquisition of the British Car Auctions (BCA) facility located in Corby. The asset was acquired for £67.65m reflecting an attractive yield profile in addition  to being fully underpinned by redevelopment value.
The Freehold site comprises 121 acres and is used as a national car storage facility for BCA's growing online operation.  The demised site is surfaced, lit and secure with approximately 63,558 sq ft of ancillary accommodation, facilitating distribution, refurbishment, valet, inspection and onward distribution throughout the UK.  
The site is situated between Midlands Logistics Park, the largest strategic logistics scheme in the region, with 2.3m sq ft already delivered and occupied and 2.6m sq ft with outline planning consent at Phase 2, known as Mulberry Logistics Park Corby.  The subject site offers excellent underlying redevelopment prospects whilst currently fully let to BCA for 25 years expiring in June 2045.  The investment also benefits from explicit rental growth through RPI index linked reviews.
The current rent passing of £3,241,000 per annum, reflecting a very low £26,785 per acre compared with in excess of £35,000 per acre achieved at Rockingham Business Park to the north. As such the site offers excellent reversion prospects for its continued use as secure open storage.  Given the scarcity of surfaced and secure open storage of this scale across the UK, the subject site is unique in terms of its scale and prime Midlands location.
Tom Royston of DTZ Investors commented as follows: 'We are pleased to have acquired the subject property given its unique qualities and tenant retention prospects, as evidenced by the recent lease regear negotiations which concluded over the summer.  The opportunity to acquire large format open storage sites is continually reducing in favour of big-box development.  As such we see the acquisition as both strategic from an existing use and redevelopment perspective, one which is complementary to the wider portfolio.  BCA Group continues to illustrate its market leading role in both the UK Automotive Supply Chain and the remarketing of vehicles through both physical auctions and online platforms.  The lettings success at Midlands Logistics Park also illustrates Corby's increasing prominence as one of the UK's prime logistics locations given the labour dynamics and accessibility.
Edward Spooner of M1 Agency said 'In the current market, with yields for 15 year investments for pure distribution warehouse investments compressing below 4% NIY, the purchase price reflects an attractive yield profile, with strong longer term rental growth prospects and an enviable relationship between investment and vacant possession value. 
DTZ Investors was represented by M1 Agency and vendor LXI REIT was advised by Franck-Steier Price. 
For further information please contract Tom Royston.