DTZ Investors celebrates successful 2022 strategy at King Street, Manchester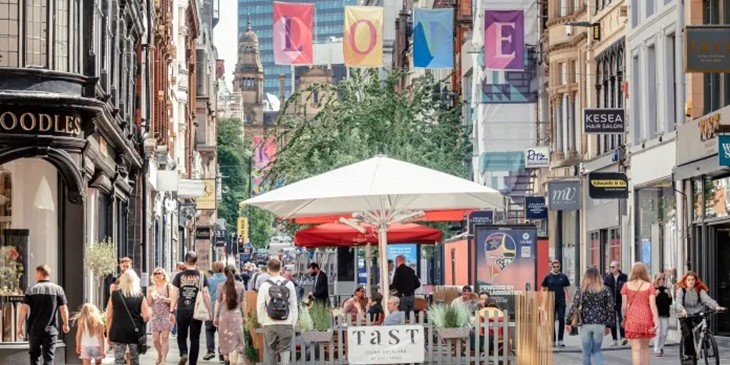 DTZ Investors has announced a stellar year at retail and leisure destination, King Street in Manchester city-centre following a raft of lettings throughout 2022 and the implementation of a wider placemaking strategy.
Five brands have committed to leases at the iconic shopping district with over 7,000 sq ft of space let during 2022.
This has included new lettings to Clarks Originals, French restaurant and deli, Petit Paris, restaurateur Steve Pilling's coffee shop, Parlour, retailer, Edit Suits and pizza restaurant Franco Manca.
The street also announced record-breaking footfall figures with a 51% increase in one year, the highest figure King Street has recorded since DTZ Investors became majority landlord.
DTZ Investors has also continued implementing a wider activation and ESG strategy, offering vacant units to global brands such as Maison Margiela, Alexander McQueen and The Pop-Up Club and supporting local businesses providing a platform for brands to utilise.
Work also began on the new residential scheme at 58-66 King Street which will see 24 1–3-bedroom apartments built in former vacant office space. The landlord has invested circa £5 million into the scheme which is set to complete during Q4 2023. 
The scheme will include a new entrance and ancillary space at ground and basement level with a cycle store and plant areas. The upper floors will be converted into residential accommodation. 
Tom Royston, director at DTZ Investors, said: "As we enter our fifth year since taking over King Street, we are really seeing our vision come to life. We wanted to provide a destination where people can not only have fantastic shopping experiences, but also find great food and soon a wider residential offering.
"We have a number of announcements in the pipeline for 2023 which will further strengthen the current offering at King Street."
Jonathan Thompson, owner of Lyon Thompson Letts said: "We have seen some incredible brands commit to King Street over the last year and it's great to see the street is 90% let. 
DTZ became a majority stakeholder of King Street in 2018 and has since worked to reposition the street to bring forward one of Manchester's most creative and culture-focused city centre areas. 
Lyon Thompson Letts and Orme are joint leasing agents on King Street.