Lakeside Village Outlet Centre Wins Sustainability Award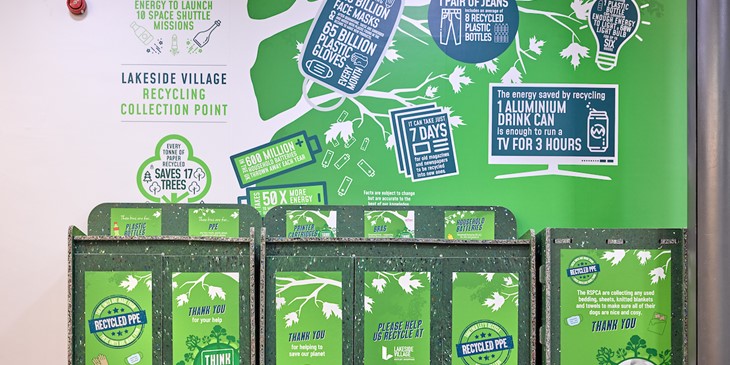 Lakeside Village Outlet Centre won the 'Best Hospitality or Retail Sustainability Initiative' award at the 2023 South Yorkshire Sustainability awards, an event to recognize and reward those leading the way in the race towards net zero carbon.
"It is a fantastic result for the team at Lakeside Village. The team's enthusiasm to incorporate sustainability and community into all areas of the scheme is a joy to see and the success of the centre continues to demonstrate that ESG initiatives can increase footfall, enhance occupier retention and attract new brands." Rebecca Burley, Asset Manager at DTZ Investors.
The team at Lakeside Village were commended for their sustainability strategy and the results it has achieved. Initiatives that the team have rolled out include the Lakeside Village Green Zone – an area in the Guest Services area of the centre where customers and centre visitors can donate and drop-off used and unwanted items for recycling and reuse. As well as investment into the landscape to welcome in nature with wildflowers and herb garden boxes. The team have also teamed up with Refood to turn food waste from the centre into fertiliser for crops. The scheme also increased its site waste recycling to 80% with no waste being sent to landfill.
Lyndsey Parry from Realm, Deputy Centre Manager at Lakeside Village, said: "We are so proud to say that Lakeside Village Outlet Shopping has sustainability at its heart, with a number of innovative Green initiatives in place. From recycling initiatives to green clauses in new store contracts, every element of our business is focused on creating a net zero centre by 2030."
In 2022 the scheme raised £11,957 for charities, donated over 570 bags of towels and bedding to the RSPCA, and donated 23 boxes of bras to Against Breast Cancer. Many more initiatives include free events for the community, litter picking and charity fundraising.
For more information please contact Rebecca Burley at DTZ Investors.