DTZ Investors wins IPD / IPF Performance Award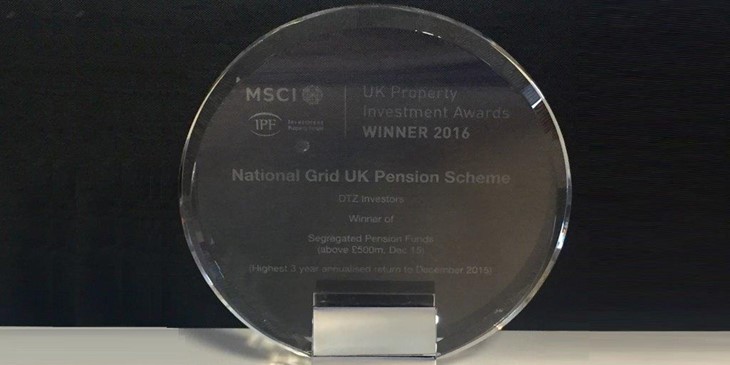 A discretionary client of DTZ Investors has won the top performer in the Segregated Pension Funds above £500m category at the 2016 annual IPD/IPF awards, delivering a total return of 16.6% p.a. for the three years to December 2015.
DTZI has oriented the fund over the last 3 years to provide exposure to markets and sectors with strong growth prospects.  The focus has been to combine a research-based strategic approach with superior stock selection. Assets offering value-add opportunities have been acquired in core locations within key regional centres, along with multi-let industrials in major conurbations. 
"We are delighted with the performance of the Fund, especially as we have transacted £600m over the last three years, which is a testament to our robust investment strategy and the hard work undertaken by our asset managers to drive value and returns. This is excellent news for DTZ Investors as it demonstrates the results that can be achieved through our disciplined approach to real estate investment management.
This award follows our recent move to new offices at King William Street, in the City of London, the launch of our new website www.dtzinvestors.com, and our drive to consolidate our position as a leading, independent real estate investment manager." said Peter O'Gorman, the Fund Manager.