DTZ Investors completed on, or put under offer, £267m of transactions during Q1 2019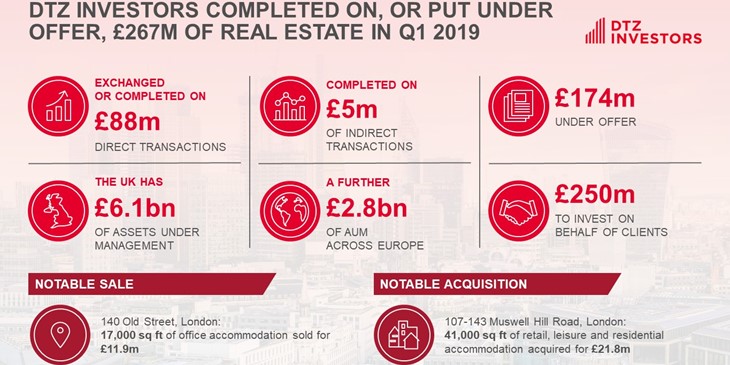 Four direct acquisitions completed during the quarter, including multi-let industrial estates in High Wycombe (Century Point for £19.6m) and Milton Keynes (Canon Industrial Park for £18.1m); locations that continue to benefit from robust occupational markets and strong rental growth.
Century Point is a 95,000 sq ft estate, fully let to seven tenants. The property is situated within Cressex Business Park, the principal industrial location in High Wycombe. With a weighted average unexpired lease term of 3.5 years, and a low passing rent, the acquisition provides opportunities to capture strong occupier demand and realise reversionary potential.
Canon Industrial Estate, a 29 unit scheme, is situated north of Milton Keynes town centre. The area is expected to be well-served by the planned investment and infrastructure improvements in the Oxford to Cambridge "Technology Belt" corridor.
DTZ Investors also acquired a mixed-use parade on Muswell Hill Road, London, comprising retail, cinema and residential accommodation. The commercial units are fully let to tenants including Everyman Media Group Plc, Planet Organic, Barnardo's and Bill's Restaurants. The purchase is in line with fund strategy, offering a diversified income stream within a strong Greater London location.
Future investment will continue to target multi-let industrial estates, mixed-use assets in affluent locations, and alternatives, offering long, possibly index-linked, income.