DTZ INVESTORS COMPLETES ON THE PODIUM, BATH FOLLOWING A POPULAR BID TO ACQUIRE THE FREEHOLD FOR £69,765,000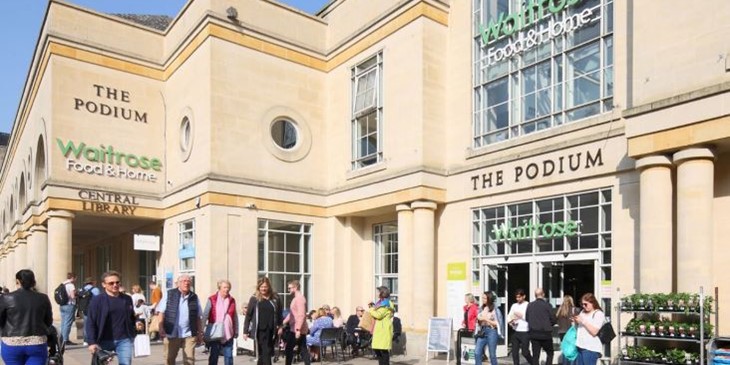 DTZ Investors has successfully completed the freehold acquisition of The Podium, Bath for £69,765,000, reflecting a net initial yield of c.4.1%.
The deal was a rare opportunity to secure a large freehold site in Bath city centre, let in part on a long lease to a leading supermarket, alongside a busy car park, providing us  with both a secure and varied income stream. Together with it being a freehold site in a fantastic location, with significant longer-term redevelopment upside, cements this as an excellent acquisition for the fund. We are delighted to have secured this property in what was a highly competitive bidding situation'.
The property encompasses a 2.6 acre freehold and comprises a 63,299 sq ft Waitrose, a 26,427 sq ft library, a 173 room Hilton Hotel and a directly managed 520 car park.  The Waitrose supermarket is let on a lease with 27.5 years unexpired and benefits from RPI rent reviews.  The central location of the site serves the supermarket, hotel, library and car park extremely well, especially given the lack of competing schemes creating a low supply high demand dynamic.
The Podium was marketed in a targeted campaign, which saw significant interest from UK Institutions, Councils and Property Companies, resulting in a competitive bidding situation.
The acquisition is in line with the Fund's strategy of increasing exposure to secure long dated RPI tracking income and an alternative revenue stream supported by Bath as a tourist, shopping, commercial and residential centre. The asset is freehold and holds longer term mixed use redevelopment potential through increased site density in a highly land constrained location.'