DTZ INVESTORS CONTRIBUTES TO INDUSTRY SUBMISSION FOR PROFESSIONAL INVESTOR FUND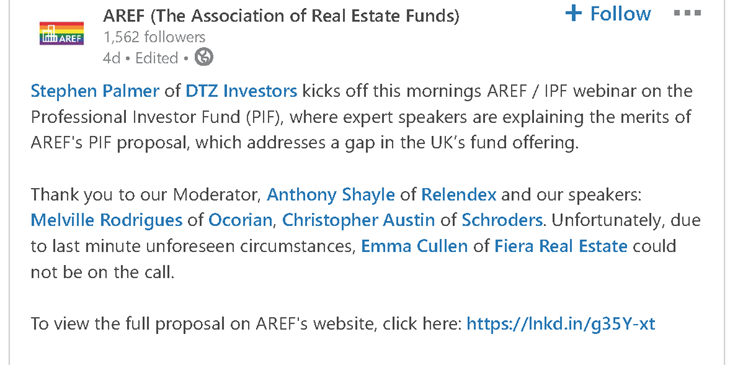 DTZ Investors contributes to industry submission for Professional Investor Fund
The Association of Real Estate Funds (AREF) is lobbying for a Professional Investor Fund (PIF) to address a clear gap that exists in the UK's fund offering for professional real estate investors. UK fund managers are currently forced to consider other jurisdictions if they want to serve pension and other institutional investors with an unlisted, tax transparent fund structure with tradeable units which is not required to operate as an Authorised Fund for UK regulatory purposes. Other jurisdictions offer closed‐ended, unlisted, tax transparent funds with tradeable units. The UK does not offer an equivalent fund vehicle. 
Stephen Palmer, Director, Indirect Investment at DTZ Investors contributed to the AREF submission on the PIF proposal, and this can be found here: https://www.aref.org.uk/resource/new-fund-vehicle-proposed.html
On 2 July 2020, Stephen contributed to a webinar organised by AREF to explain the merits of the PIF proposal. The webinar was particularly well attended with more than 120 participants.  The post event information, including a recording can be found here: https://www.aref.org.uk/resource/post-event-materials-aref-ipf-webinar-pif-proposal-explained.html
For any further details, please contact Stephen Palmer.