DTZ Investors forward funds £70 million for Earlsfield co-living scheme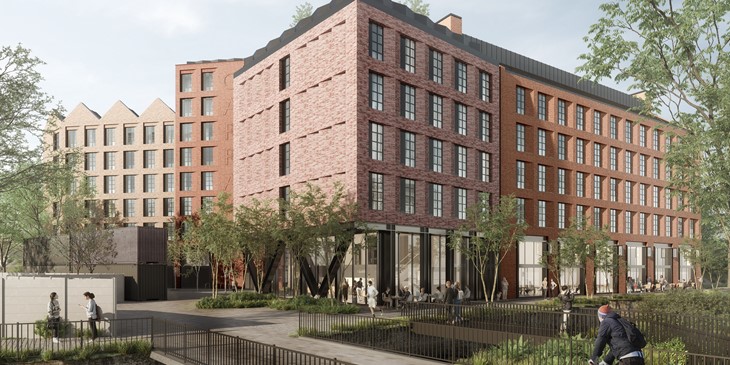 DTZ Investors has forward funded a 310 room scheme in Earlsfield for its co-living fund, in a deal requiring c.£70 million of total investment.
The Collective, which is the fund's property and asset manager, will build-out and operate the development on Trewint Street, in the London Borough of Wandsworth. When completed it will be the second asset in the fund following the forward-funding of The Collective Harrow, which was announced when the fund launched in October last year.
Chris Cooper, Chief Executive Officer at DTZ Investors, said: "We launched our co-living fund last year with the aim of providing high quality, flexible and socially responsible housing in London. The development we are announcing today at Trewint Street in Earlsfield is a fine example of that aim.
"We want to have an impact beyond the four walls of our real estate by connecting with our local communities and promoting better health and well-being for our residents. The Collective Earlsfield will provide 35% on-site affordable housing targeted at key workers. The extensive indoor and outdoor communal spaces help to knit the community together and combat loneliness. A bespoke Community Investment Plan has been agreed with The Collective and the Local Authority. Together, we will work with local charities to give back to the causes that matter most to the community."
Reza Merchant, Chief Executive Officer and founder of The Collective, said: "We are excited to progress The Collective Earlsfield through to construction in partnership with DTZ Investors under the COLIV fund. We've been impressed with the proactive approach taken by Wandsworth Council to unlock the delivery of this project. The co-living asset class is demonstrating its resilience in the context of the COVID-19 pandemic and the current economic climate, and we remain focused on delivering our pipeline of projects in the UK and across continental Europe and the US."  
The development will be funded with a mixture of equity, drawn down from the fund, and debt, which will be provided by alternative asset manager Cheyne Capital.
Richard Howe of Cheyne Capital comments:  "We are pleased to be supporting this exciting co-living project in Earlsfield, which fits well with our thesis of originating investment opportunities in value-add or development assets in attractive locations, in partnership with high-quality borrowers with whom we can form a long-term relationship. This latest activity by DTZ Investors demonstrates the growing institutional demand for the co-living sector, which we believe offers a compelling risk/reward dynamic for investors today."
Strong alignment to ESG objectives
The fund is committed to achieving sustainable housing solutions, which foster a diverse and supportive community, promoting health and well-being – whilst delivering value for money for co-living residents.
The Collective Earlsfield will achieve BREEAM Excellent certification, reflecting its ambition to contribute to sustainable housing solutions for London. More than a quarter of the 120,000 sq ft development will be dedicated to resident amenities to encourage social interaction, including a café, co-working space, events space, a communal dining and kitchen area, cinema room, laundry facilities, shared lounges and a library. Outdoor spaces adjacent to the River Wandle will encourage residents to spend more time outside, and a gym and studio space will facilitate health and well-being focused events. 35% of the rooms will be affordable housing at discount market rent, with five rooms reserved for young people leaving foster care in the borough at significant discounts to local market rents.
A Community Investment Plan led by The Collective will also be put in place during the development period which will identify a number of charities and social groups in the local area that the fund will work with to help resolve issues that are important to the local community.
Location
The Collective Earlsfield is a less than five minutes' walk from Earlsfield Station, which provides mainline trains into London Waterloo in approximately 13 minutes. The adjacent River Wandle and Wandle Trail is a cycle and pedestrian only route that follows the River Wandle from its mouth at the River Thames in Wandsworth, through three boroughs, to Croydon.
COLIV momentum
This latest deal follows the launch of the fund, the world's first institutional co-living investment vehicle, in October 2019, by DTZ Investors. It aims to raise total equity commitments of up to £650 million and to acquire, or forward fund, between six and ten co-living assets in London, with a target gross asset value of £1 billion across the life of the fund. The first acquisition was The Collective Harrow in Q4 last year. In July 2020 DTZ Investors announced that Merseyside Pension fund had joined other investors, including the Strathclyde Pension Fund, in investing.
Building on this momentum, the fund is targeting further deals before the end of the year.  
For more information visit: www.colivfund.com.
For media enquiries please contact:
DTZ Investors
Jeremy Durrant, Jamie Till
07792 918 648 / 07581 480 083