DTZ Investors Appoints Jennifer Linacre as Head of Responsible Investment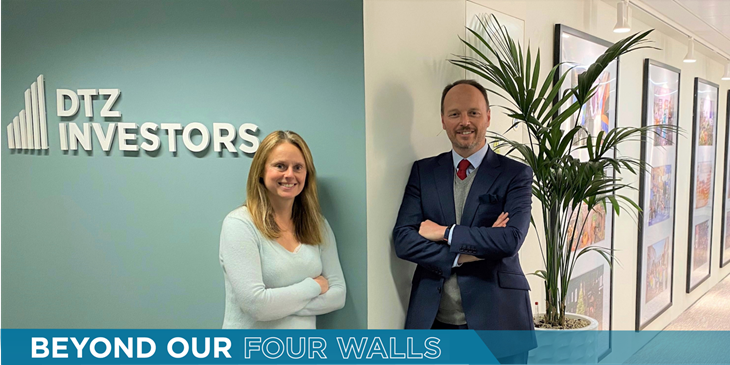 DTZ Investors has appointed Jennifer Linacre as Head of Responsible Investment.
This is a Board appointment, overseeing the firm's Responsible Investment (RI) and Corporate Social Responsibility programmes. The central plank of the RI strategy is an ambitious commitment to transitioning managed assets to Net Zero by 2040. CSR is delivered through commitments in the fields of Respect, Education Accessibility, Community and Habitat (REACH), developed by the business during 2020 lockdown.
Jennifer joined DTZI in 2000 and brings a wealth of experience and knowledge in investment, managing large discretionary and advisory property portfolios. In addition, Jennifer chairs DTZI's Responsible Investment Committee, which sets policy for the group on all matters relating to ESG standards in connection with the assets we manage for clients and our approach as a business and occupier of real estate. Jennifer also chairs its Wellbeing Committee and is responsible for delivering and embedding the responsible investment strategy across all areas of the business.
Jennifer will report directly to Chief Executive Officer Chris Cooper.
Chris Cooper said: "In a continuation of our commitment to embedding Responsible Investment into our business and investment processes, and to demonstrate the importance of RI in our corporate vision, we have appointed Jennifer Linacre as our Head of Responsible Investment. This is a board level appointment to help set the corporate tone and to drive RI practices throughout our business."
Jennifer Linacre added: "I am very excited to be given this opportunity to lead DTZ Investors in the next phase of its RI commitments. In recent years the number of clients and investors seeking to ensure their investments consider environmental and societal challenges has surged. Climate change is a widely known issue, and as investment and asset managers, its important we make changes to our investment strategy to meet necessary targets."
DTZ Investors is a member of the Institutional Investors Group on Climate Change and a public supporter of the Task Force on Climate-related Financial Disclosures (TCFD) recommendations. This year it also committed to the challenging target of transitioning the direct holdings under its management to Net Zero Carbon by 2040. This is an ambitious timeframe for DTZ Investors as its clients' portfolios are diverse, with a broad range of asset types, geography, age, use, and occupier base.
This year, understanding the positive impact it could have as a business, DTZI expanded its RI programme to include its corporate activities through its REACH programme, believing it should manage itself to the same high standards it sets for others. Engagement is key to its strategy, so DTZI invested significantly in the refurbishment of its offices to create an environment that facilitates collaboration and focuses on health and wellbeing and the responsible use of resources, resulting in a BREEAM Excellent rating.