DTZ Investors to bring residential to King Street for first time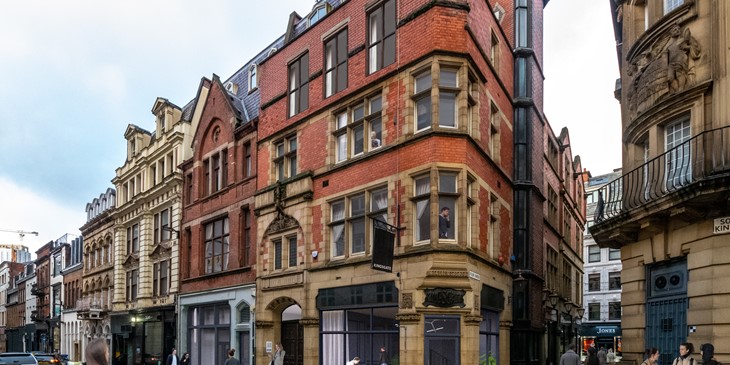 DTZ Investors have had planning approval by Manchester City Council to bring 24 apartments to Manchester's King Street.
DTZ Investors are set to reconfigure 58-66 King Street to bring city centre living to the famous shopping destination. Designed by AEW architects the scheme includes 24 one- and two-bedroom apartments over four floors.
DTZ Investors, the largest landlord on King Street's real estate, will invest circa £3.5 million in the 12-month transformation. The apartments will offer luxury accommodation for rental.
Following approval, work is set to start on site in Spring 2022 with an estimated PC in Q3 of 2023. Homes would be available to rent shortly after.
The new development includes the refurbishment and conversion of a former retail and office unit to the upper parts of three historic buildings into residential accommodation including a new entrance and ancillary space at ground and basement level, high end finishes and new mechanical and electrical services.
The works will be in keeping with the buildings historical nature, character and listed status of 62 King Street by retaining the existing features.
This investment follows a strong 2021 for the street which has seen, new retailers commit to space including clothing brand Pretty Green, global brand Cinnabon and the re-commitment from long standing tenant, The White Company as well as a wider investment programme transforming approx. 15,930 sq ft of office accommodation and significant changes and development of the King Street brand.
Tom Royston from DTZ Investors said: "It is our vision to create a brand for King Street where all components are complementary. We are delighted that the residential scheme we have submitted for planning has been approved. This scheme not only mirrors our vision for the brand and our retail and office space offering but also adds another aspect to the famous district.
"City centre living is on the rise across Manchester. King Street offers a mass of amenity in its immediate surroundings which will make it a brilliant place to call home. Most of the residential offering features high-rise towers so we hope to offer something a bit different with character on King Street.
"This also comes at a time when we're seeing a lot of repositioning of assets in Manchester; well-known buildings such as House of Fraser and Debenhams are both due to be flipped from retail assets into commercial, and we anticipate that the market will see a lot more of this over the course of the next few years.
"There is an increased emphasis in the wake of the pandemic on developing consciously, and thoughtfully breathing new life into existing structures. As Manchester continues to solidify its reputation as a leading European hub for commerce and culture, the demand for its city centre rental market is increasing in tandem.
"It's considered one of the UK's most attractive cities in which to live and work, and so we're pleased to be repurposing this former office scheme into distinctive, high-quality apartments which will help meet some of that demand.
"King Street has historically had a reputation for being one of the region's most glamorous and recognisable shopping streets, so we're looking forward to bringing a residential element to the district for the very first time."
Phil Hepworth from Aew Architects said: "With the aim to provide luxury accommodation befitting this prestigious address, our design strategy has been to utilise the existing building and layout to its maximum advantage, retaining as much of the historical building and its features as possible to create a unique residential offer. We're delighted to see the scheme now achieve planning."
Savills is acting as planning advisor to DTZ Investors.