DTZ Investors colleagues take part in the JLL Property Triathlon 2022 that raised £179'000 for The World Wildlife Fund (WWF)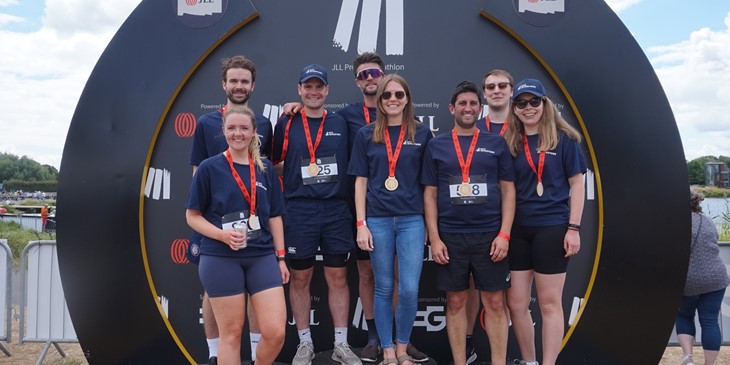 On Friday 1st July, 10 DTZ Investors colleagues took part in the JLL Property Triathlon at Dorney Lake.
The JLL Property Triathlon is an annual event in its 15th year and has raised over £2m for charity. This year the event raised money for The World Wildlife Fund (WWF), which is 'the world's leading independent conservation organisation', and raised £179,000 from the 2022 event, with DTZ Investors contributing to this total by taking part in the event. 
Three teams entered the mixed relay race, comprising a 750m swim in open water, a 21.2km bike ride and a 5km run. Rebecca Burley, Stephen Palmer, William Elliot, Jo Jackson, Ben Haller, Danielle Wythe, Elliot Herbertson and Jamie Hall took part in this race, with Team 3 achieving 21st overall in the team relay race with a time of 1 hour 12 minutes collectively. 
In addition, Gavin Richmond and Tom Royston completed the men's individual triathlon event with impressive times, respectively. 
For further information on the JLL Property Triathlon, please visit https://www.propertytriathlon.com/ and for more details on WWF, please visit https://www.wwf.org.uk