INEOS Grenadier showroom opens at Portsmouth Motor Park, Portsmouth.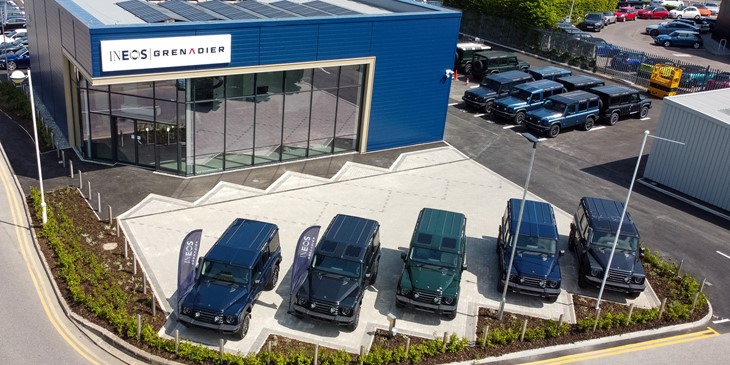 Harwoods Group have committed to Portsmouth Motor Park by opening a new build INEOS Grenadier showroom and completing a major sustainable refurbishment of their main existing Audi showroom.
The new INEOS Grenadier car showroom comprises a c.3,900 sq ft building including a showroom, workshop and office area over ground and first floors. The main sustainability features of this showroom comprise of photovoltaic panels, double glazing, LED lighting, electric heating and has achieved an Energy Performance Certificate 'EPC' A rating. Landscaping has also been enhanced externally and has achieved a 43.7% biodiversity net gain.
As part of the main Audi refurbishment, internally new LED lighting has been installed and the gas supply has been withdrawn to decarbonise the asset. Externally, new cycle spaces and Electric Vehicle (EV) charging have been implemented to encourage sustainable transport to the property. In addition, level access into the building has been installed to improve accessibility and inclusion. This refurbishment has achieved a 'B' EPC rating therefore ensuring future compliance with potential changes to the Minimum Energy Efficiency Standards 'MEES' regulations.
DTZ Investors acquired Portsmouth Motor Park in Q1 2020 for c.£30m. The Motor Park is located on Eastern Road, providing easy access into Portsmouth City Centre and South Coast via the A27/ M27. The asset comprises motor trade dealerships, together with two quasi-office buildings. Other notable dealers on the Motor Park include Snows (BMW, Mini and Seat), Pentagon (Mercedes), Hendy (Renault) and Marshalls (VW).       
Jo Jackson, Asset Manager at DTZ Investors, adds: 'we are delighted to support the refurbishment of the main Audi showroom and are pleased with the opening of the new INEOS Grenadier showroom at Portsmouth Motor Park. This new development will continue to promote Portsmouth Motor Park as a dominant car showroom within the Portsmouth market. The development aligns with our sustainability targets and future proofs the asset from potential statutory legislation changes.'
Bill Bexson from Savills acted on behalf of DTZ Investors.
Andrew Foulds, Property Director of Harwoods, acted on behalf of the tenant.
For more information on Portsmouth Motor Park, please contact Jo Jackson and Kevin O'Connor.